Recently we had a service call where water was coming from the ceiling of a home. It's common for water to come from the ceiling for things like bathtubs that previously overflowed, a toilet, a shower or a sink leaking. Water could even be from a busted water or waste pipe.
Well, in over 30 years of doing plumbing I have never seen this (image above) be the source of a water leak. If you look closely at the above photo you will see an electrical wire running through the plumbing waste fitting. Yes, you read that correctly, the wire was running through the fitting.  This wire was most likely fished through the walls and the electrician really had no way of knowing the wire went through a plumbing pipe, instead of a board.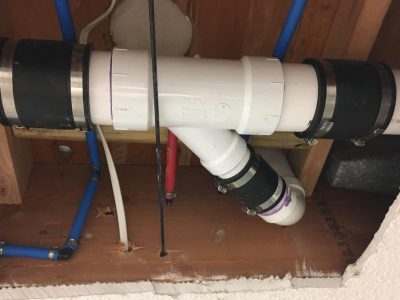 Luckily this was an easy repair, but I can't help to be thankful this waste pipe was not clogged and would have required running a drain snake down the pipe and hitting that live wire. 
You never know what you may discover as a service and repair plumber, at the end of the day it's all in a day's work of a master plumber.
If you have a plumbing issue, hopefully not an electrical wire through a plumbing waste fitting, give us a call at Accro Plumbing, (417) 839-1417.